This years biggest trends have been emerging for some time but were about to see them being taken to a whole new level as couples embrace the unknown and just go for it. Were stepping a little away from DIY and finding the perfect balance between rustic & glam and vintage & modern. 2016 your'e going to be awesome!!
---
Metallic's
Silver and gold have always played a big role in wedding decor and last year we saw copper make a huge appearance. This year we will see metallic's on a whole new level with rose gold and bronze adding to the mix.
---
Geometrics
The geometric faze is only going to grow this year with couples choosing to add geometric prints and shapes in their decor.
---
Loose Florals
Were still designing loose hand-picked florals with loads of foliage and texture. This year we will see a lot of clusters of one type of flower in centrepieces in an unstructured trailing style.
---
Mismatched Bridesmaids
Brides are living on the edge when it comes to dressing their maids, first it was the same fabric in a different style of dress, then we broke into mismatched maids of varying shades, this year brides will go bolder having their maids in different colours across their wedding palette.
---
Woodland Style- Lush Lush Lush
Think logs and twigs and moss and a range of lush foliage dripping over every space on the table, woodland style will really come into its own this year.
---
Alternative Entertainments
Couples are looking for fun ways for their guests to pass the time while they are off getting their photos; carticuture artists, magicians, photobooths/polaroid stations and the popular lawn games will be featuring in many weddings this year.
---
Colour Me Floral
Floral maids, printed linens, vintage floral stationery will be making its way into wedding style this year.
---
Natural Luxury
Think sharpy laser cut wooden decor and soft luxe silky ribbons and textured linen tablecloths.
---
Rustic Chic
Rustic is still very much alive but is getting the royal treatment this year with the addition of chic linens, crystal vases, an abundance of candles and glamorous flowers.
---
Self Serve
Think a self serve cocktail bar with bowls of garnishes to self pour beer bar, ice-cream station with a range of toppings or the ever popular candy buffet.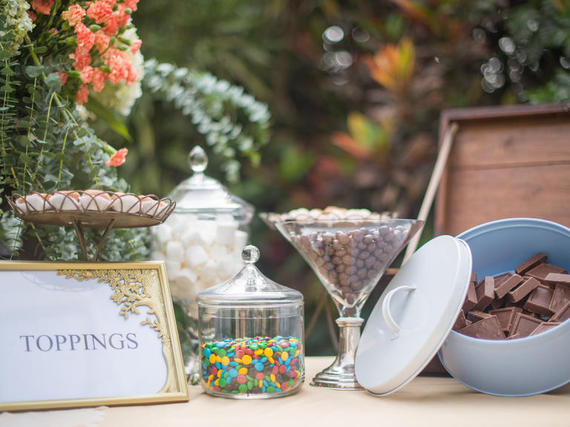 ---
Food Trucks
Whether you are thinking of a cocktail hour snack or feeding the crowd your favourite cuisine for dinner food trucks will be making an appearance at many a wedding this year.
---
Rise Of The Intimate
The guest list seems to be shrinking, gone are the days when couples allow their parents to invite distant relations they may never have met. These days couples are being very choosy and keeping the occasion small.
---
Laid Back Affair
Modern brides are looking to kick of their shoes on their wedding day, have fun and chill the fudge out. They want to join in with all they have organised for their guests and spend less time on the 'formalities.'
---
Don't Forget To Look Up
This year more and more brides are keeping their table decor minimalist and choosing to drape decor such as flowers and lights from the ceiling to create drama.